Our Role: Helping People Respond to the Pandemic

The COVID-19 pandemic has brought unprecedented challenges for the communities and economies worldwide, causing a profound effect on the health and well-being of people.
Science is more important now than ever before. Shimadzu Corporation has been committed to contributing to society through science and technology since its founding in 1875.
Today, we see many frontline healthcare workers and researchers focus their efforts toward caring for people, finding a treatment, and developing a vaccine and pharmaceuticals. We will harness the power of science and utilize our full capabilities to support and respond to these efforts.
This website introduces the current efforts and technologies for virus detection, pneumonia diagnosis and drug analysis that Shimadzu can offer in responding to this global pandemic.
Science will get us through this pandemic.
published by Shimadzu Corporation, Japan >>
Related article "COVID-19 – work together"
published by Shimadzu Europa GmbH, Germany>>
Pneumonia Diagnosis Mobile Digital X-ray System
In the event of a pandemic infection, like COVID-19, existing CT or fixed X-ray facilities in hospitals may not be easily accessible or disinfected.
For this reason, a "mobile" X-ray system is a very important tool for pneumonia diagnosis as it can be used to examine patients in an isolated patient room or ICU.
In addition, a mobile system is easier to disinfect after exams than fixed systems.
This rechargeable diagnostic imaging system is a highly effective, powerful tool in emergency medical care because of its ability to examine patients who cannot be easily moved to a radiography room due to infectious concerns or physical difficulties.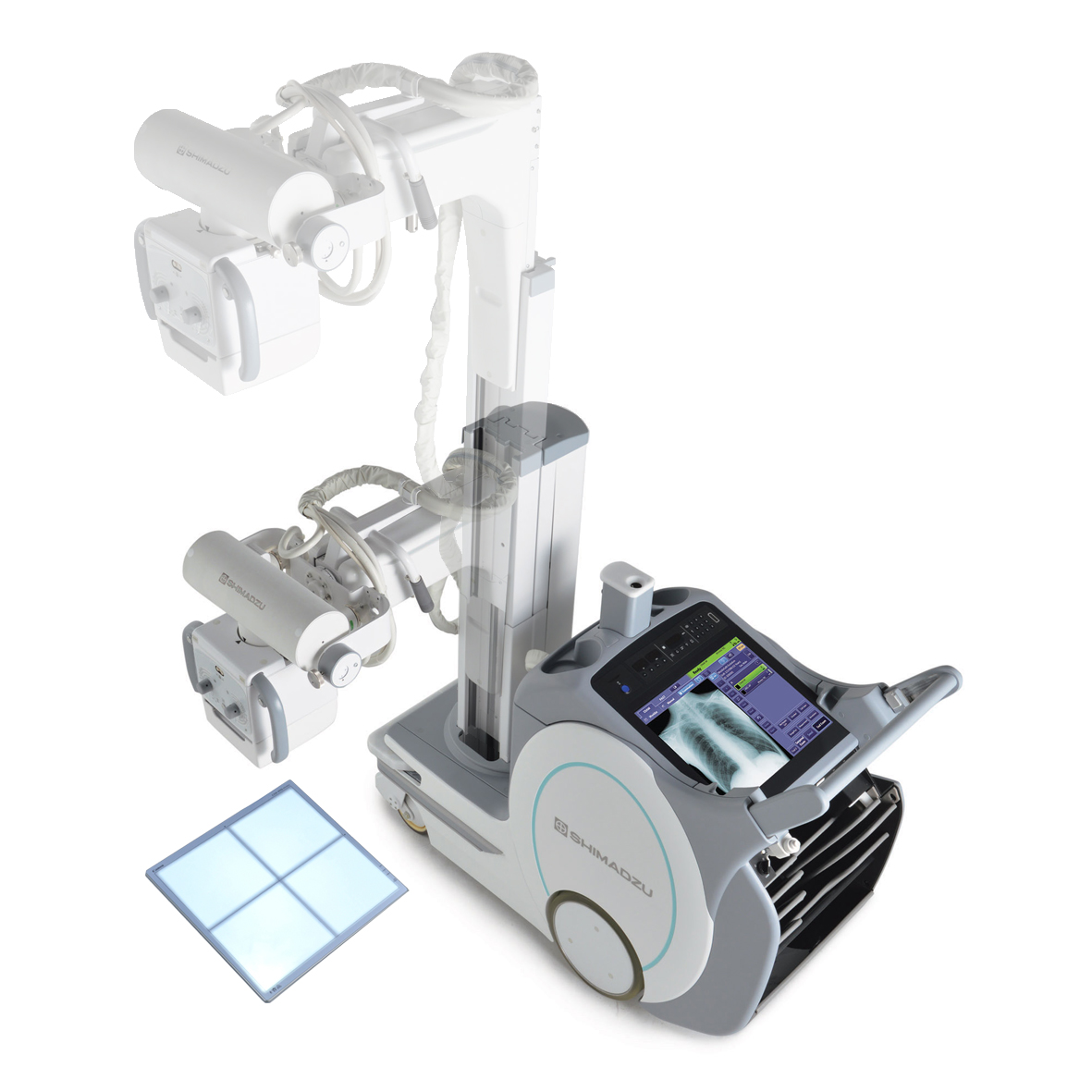 Increasing the Production of X-ray Systems Needed Urgently
Shimane Shimadzu (located in Shimane Prefecture, Japan), which manufactures medical imaging equipment, has been directing its energies towards production increase of the Digital Mobile X-ray System. The COVID-19 pandemic has brought about an urgent need for this equipment in medical institutions around the world.
By changing the layout of our factory and allocating workers from other product lines, we work hard to maintain a production output double that of usual. In order to deliver that required equipment to medical institutions around the world as quickly as possible, we will continue our efforts to maximize our manufacturing output while taking measures to prevent infection.