RADspeed Pro EDGE
High-performance digital radiographic system with extended functionality
High productivity and reliability – hallmarks of Shimadzu X-ray systems
With over a century of experience in manufacturing X-ray systems, Shimadzu's expertise is well recognized. For years, Shimadzu's X-ray products have been associated with legendary reliability, cost-effectiveness and quality in the medical industry.
The company's digital radiographic systems feature state-of-the-art technology that supports productivity, user-operability, patient comfort and safety. The new RADspeed Pro EDGE, for example, offers high-performance digital projection radiography and provides useful image techniques like Tomosynthesis, Auto-Stitching and Dual Energy Subtraction, further enhancing the range of applications for radiology examinations.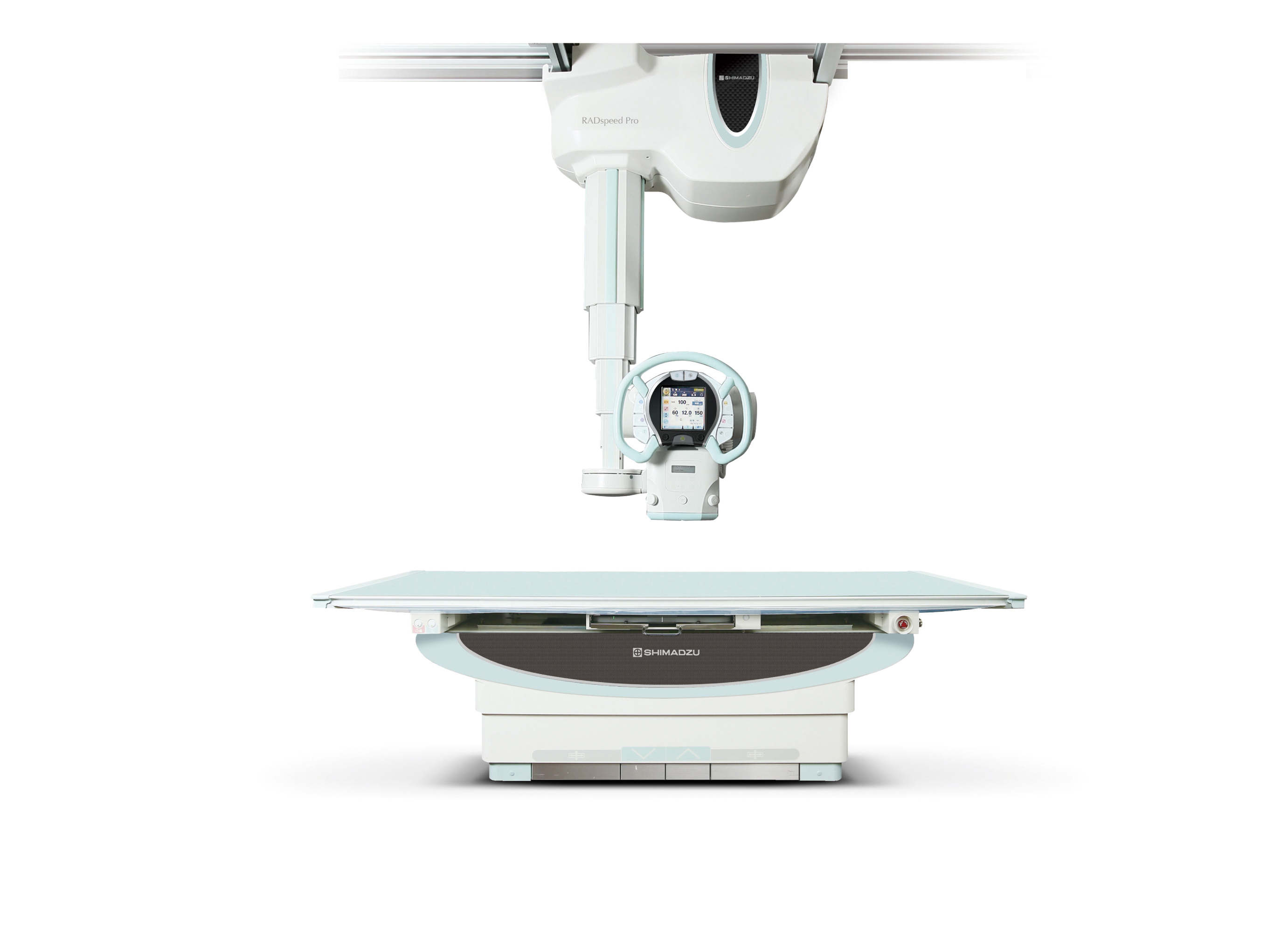 Providing new clinical values
Tomosynthesis (Digital Multi-slice Tomography) Tomosynthesis is a new digital imaging technology that combines cone-beam CT reconstruction with digital image processing. It allows scans of any cross section to be obtained easily from volume data acquired from a single tomographic scan.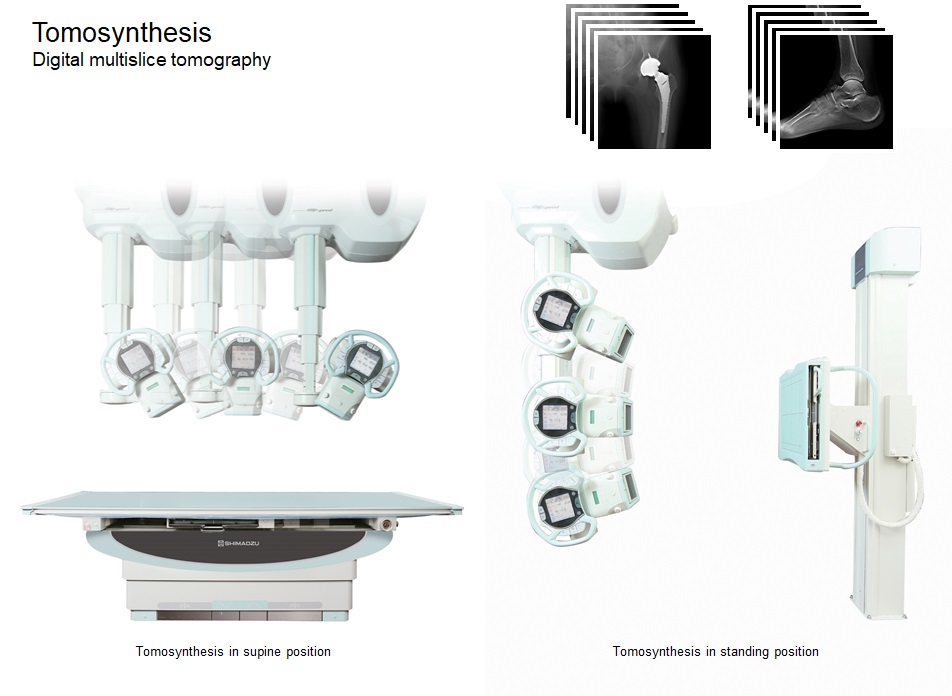 Flexible examination with freedom in choosing body positions
This feature allows images to be obtained with loads applied in the standing position, or in the supine position on a table. Consequently, it can be used to acquire scans of the elbow or knee in the bent position, which is difficult using CT.
Fewer metal artifacts make Tomosynthesis especially useful for orthopedics applications
Tomographic scans can be viewed with fewer metal artifacts than with CT images. This is especially useful for follow-up examinations after orthopedic surgery in areas with embedded metal objects.
Low exposure imaging
Tomosynthesis enables scanning of multi-frame volume data with low dose exposures. Thanks to irradiation field size selection and collimation, X-ray exposure beyond the desired area can be suppressed even in imaging of the femur, so there is no excessive exposure.
Auto Stitching - Speed Stitch function
The newly developed bucky table facilitates obtaining 120 cm long-view images in the supine position – this is the largest available length among all manufacturers. The bucky stand makes it possible to obtain images of the entire spine and entire lower extremities with a length of up to 160 cm. One of the key features of the entire RADspeed Pro series is the automatic linking of the settings made on the X-ray tube with the bucky table or bucky stand with subsequent automatic image stitching.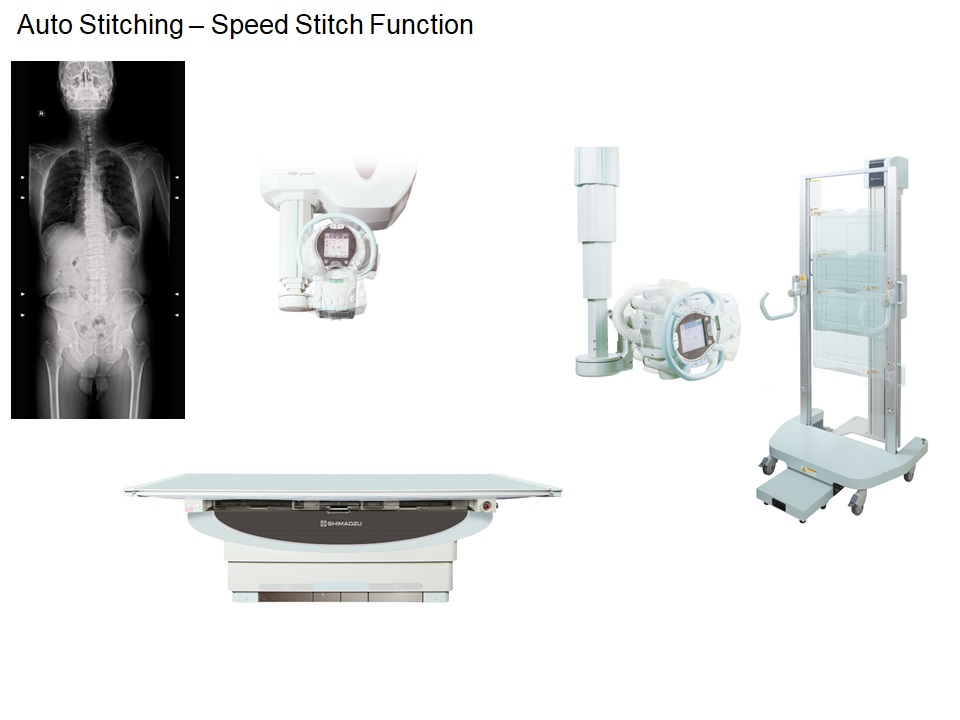 Dual Energy Subtraction
Dual-energy subtraction utilizes the difference in X-ray absorption levels of bones and soft tissue to generate separate images of soft tissue and bone tissue, in addition to projection radiography images. This separation is achieved by successively applying high and low voltages and then using subsequent separate image processing. This enables the rendering of nodes obscured behind ribs in the soft tissue of the chest area or calcifications in bone structures, which is especially useful for diagnoses in the chest area, such as lung cancer.
Innovative Flat Panel Detectors (FPD) for increased versatility
Different detectors in various cassette formats offer maximum efficiency for today's requirements in everyday clinical practice. Large format, 43 x 43 cm and 34 x 43 cm detectors for general radiographic examinations are available and are equipped either with a Cesium Iodide (CsI) or GOS (Gadolinium oxysulfide) scintillator. Additionally, a small sized FPD with an imaging area of 24 x 30 cm allows free positioning on the X-ray table, e.g. for dedicated orthopedic examinations.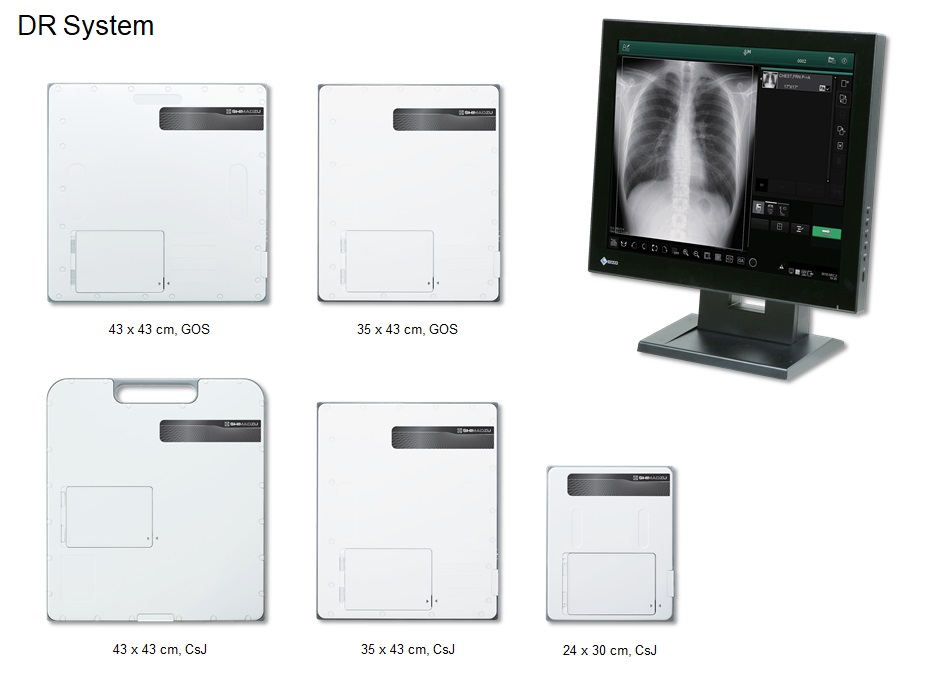 Sophisticated synchronization functions make system operation even easier
Revolutionary auto-positioning allows the operator to focus on patient care
The auto-positioning feature is interlocked with the APRs (anatomical programs). This function moves the ceiling-mounted X-ray tube support to any desired position at the press of a single button and can automatically set the X-ray tube angle. Effortless tube positioning allows the operator to focus on patient care. Naturally, manual operation is also possible to make fine positioning corrections extremely simple.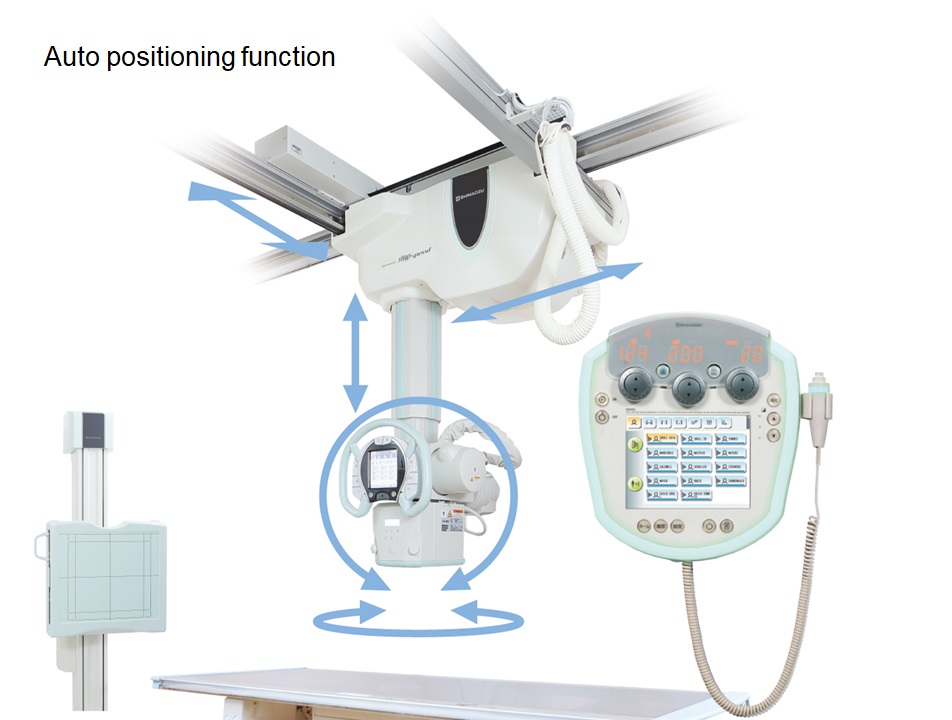 APRs synchronized with the X-ray high voltage generator
Radiography parameters and techniques can be changed at the patient's side as well as on the wall-mounted console in the control room. The operator can prepare for radiography without leaving the patient. This sophisticated synchronization of the X-ray tube support and X-ray high voltage generator effectively exploits the convenience of dual consoles.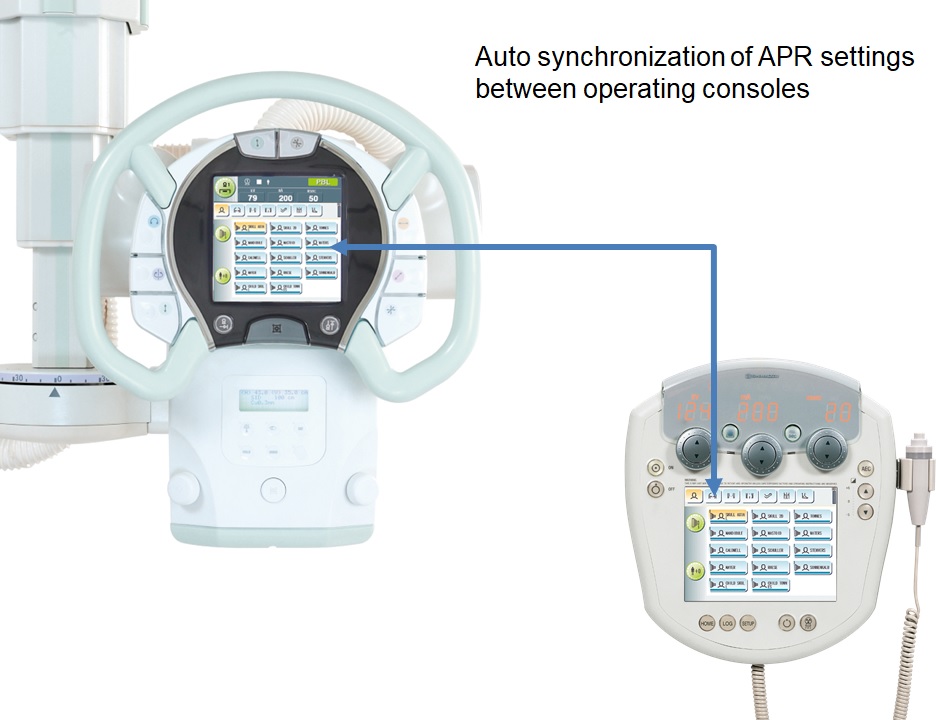 Next generation collimator reduces X-ray dose to the patients
Low dose collimator with auto-filtering feature
The new collimator can change the filter conditions automatically for the region being imaged. It provides the advantage of further dose reduction without degrading the image quality.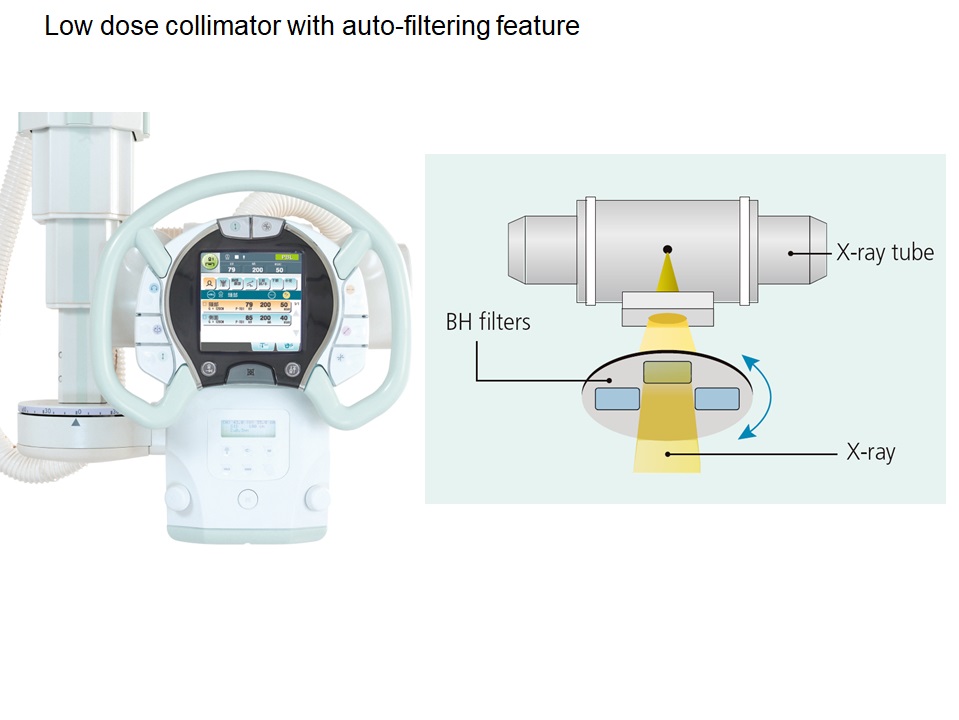 Removable Grid
The removable grid of stand and table allows a reduced dose, which is required especially in pediatrics. The type of grid inserted is displayed on the operator's console in the control room and on the touchscreen of the ceiling mounted X-ray tube support.