RADspeed Pro DR
Digital Radiographic System
High productivity and reliability - hallmarks of Shimadzu X-ray systems
With over a century of experience in manufacturing X-ray systems, Shimadzu's expertise is well recognized. For years, Shimadzu's X-ray products have been associated with legendary reliability, cost-effectiveness and quality in the medical industry. Shimadzu's digital radiographic systems are imbued with the Shimadzu heritage. Additionally, our digital radiographic system features state-of-the-art technology that enhances productivity, user-operability, patient comfort and safety.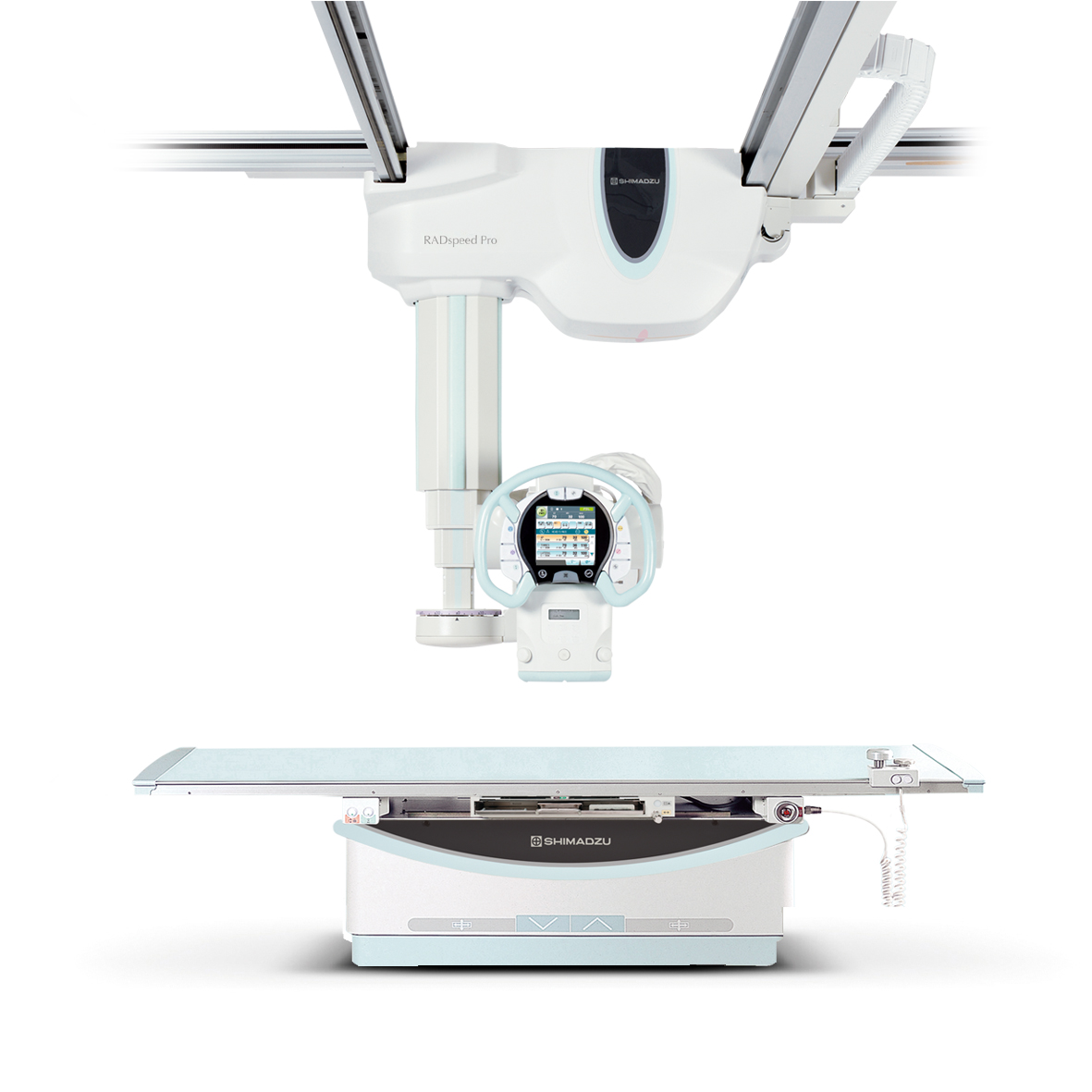 Innovative wireless Flat Panel Detectors (FPD) for increased versatility
The wireless, cassette-sized digital radiography systems provide more freedom. Whatever the DR application, the CXDI-410C, CXDI-710C and CXDI-810C flat panel detectors give more flexibility when it comes to treating patients. However, by removing the need for a sensor cable, it offers all the advantages of high-end digital radiography without the restrictions of traditional systems. The delivery of X-ray images is faster and more precise, enhancing overall efficiency and reducing exposure errors. Outstanding image quality provides greater diagnostic precision and efficient medical examinations.
The CXDI-710C FPD has the same dimensions as a traditional film cassette (35 x 43 cm) and fits directly into existing Bucky tables, allowing digital upgrade without having to modify existing analogue imaging equipment. The CXDI-410C provides a large fielt of view of 43 x 42 cm.
Easy to use and lightweight, the CXDI-710C provides an enhanced level of care to more patients. In combination with the small-sized (27.4 x 35 cm) CXDI-810C, it offers the ideal system solution to cover further specialist applications for pediatrics and orthopedics.
The data management system combined with wireless technology is an additional step to improve the workflow.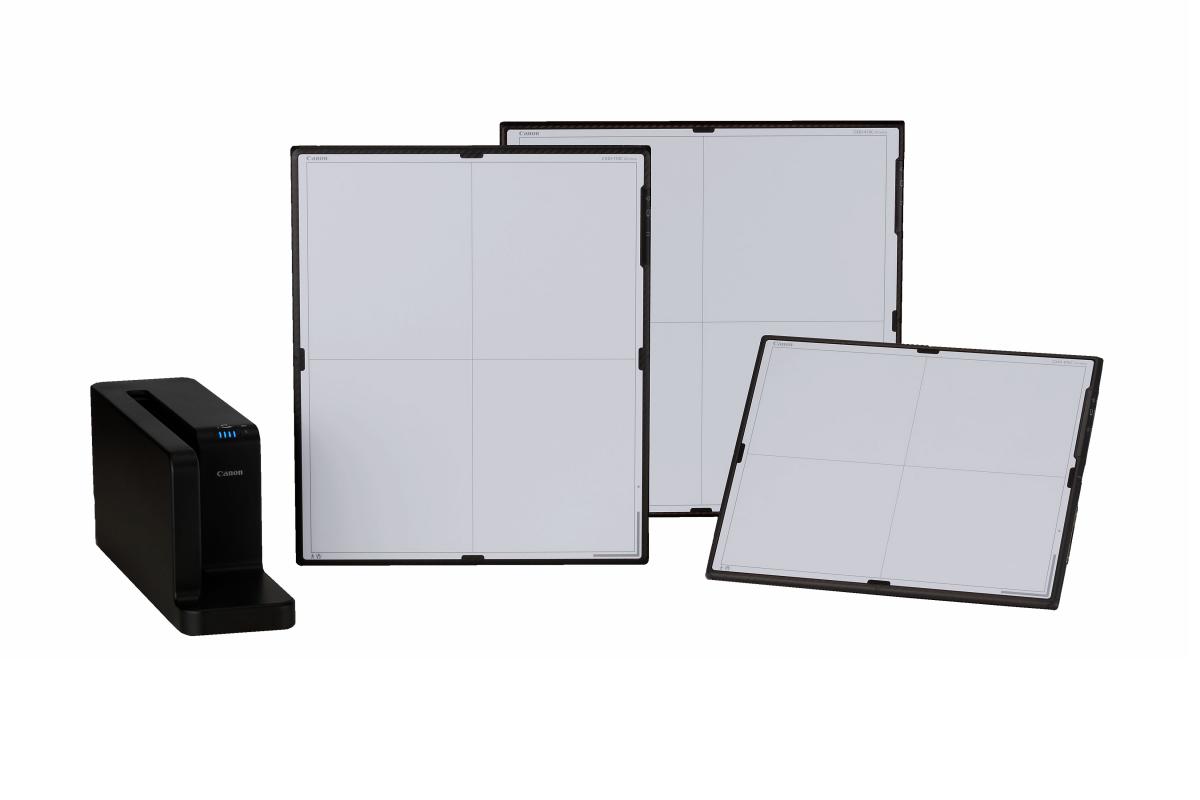 Results in seconds
A preview image is produced immediately after X-ray exposure, allowing for quick image confirmation, timely network distribution, and speedy diagnoses. If a second image is required, the sensor is ready for the next X-ray exposure in just a few moments thanks to its rapid refresh cycle.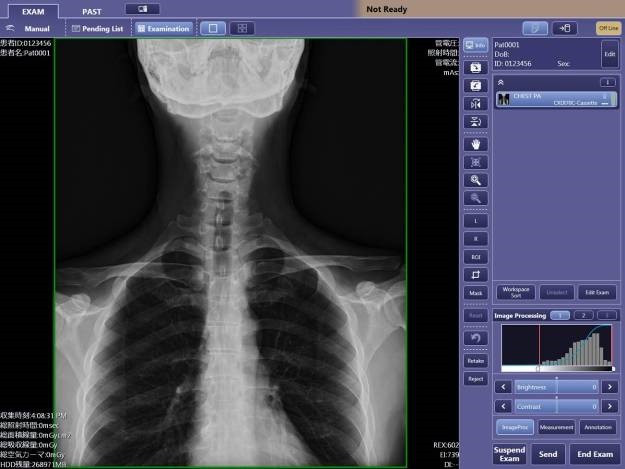 Superior image quality
The wireless flat panel detectors incorporate a newly developed glass substrate with a pixel pitch of 125 microns that delivers high quality clinical images with a higher resolution. Its Cesium Iodide (CsI) scintillator provides an increased level of sensitivity lowering the radiography dose possible in spite of the higher resolution compared to current 160 micron models.
High-sensitivity DR technology
The advanced LANMIT detector technology acquires high-resolution, high-contrast diagnostic images with minimal X-ray exposure of the patients. The Cesium Iodide (CsI) crystals of the scintillator optimize light-channelling properties for effective X-ray absorption and high signal-to-noise performance.
Sophisticated synchronization functions make system operation even easier
Revolutionary auto-positioning allows the operator to focus on patient care
The auto-positioning feature is interlocked with the APRs (anatomical programs). This function moves the ceiling-mounted X-ray tube support to any desired position at the press of a single button and can automatically set the X-ray tube angle. Effortless tube positioning allows the operator to focus on patient care. Naturally, manual operation is also possible to make fine positioning corrections extremely simple.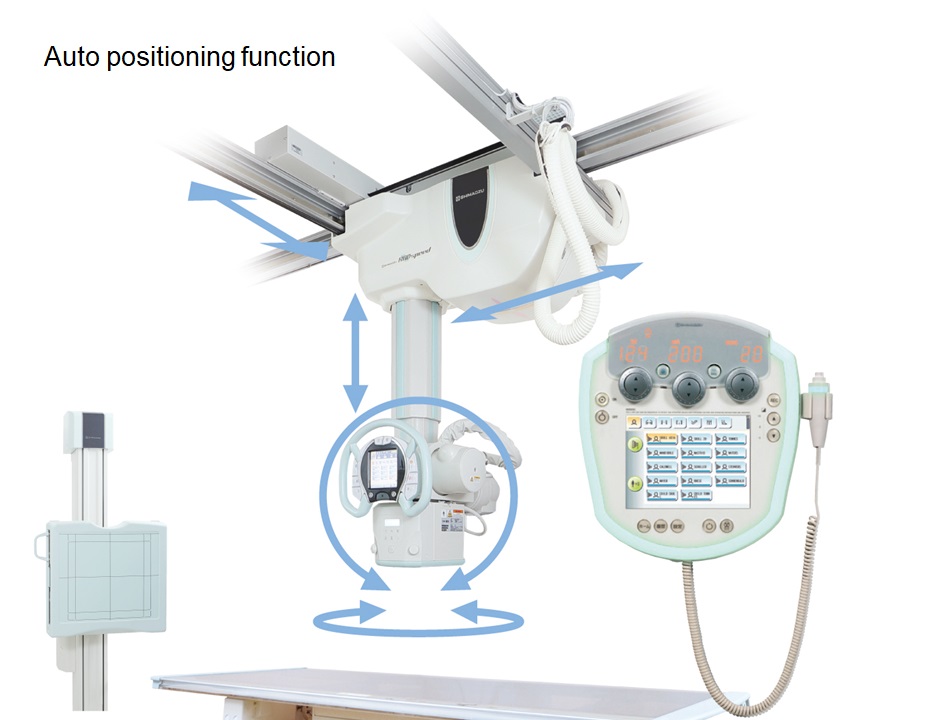 APRs synchronized with the X-ray high voltage generator
Radiography parameters and techniques can be changed beside the patient as well as on the wall-mounted console in the control room. The operator can prepare for radiography without leaving the patient. This sophisticated synchronization of the X-ray tube support and X-ray high voltage generator effectively exploits the convenience of dual consoles.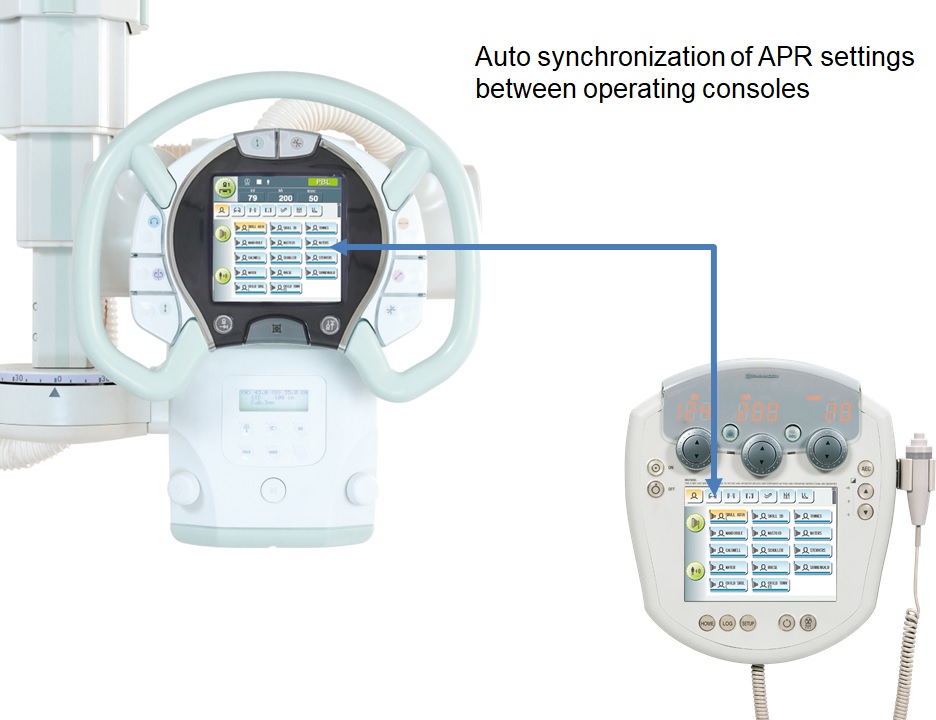 Ceiling-mounted X-ray tube support for versatile positioning
The X-ray tube provides a vertical range of 1,600 mm and ensures sufficient SID when examining supine patients and low focal point radiography of standing patients. This support also rotates on the vertical and horizontal axis in addition to fixed positioning at any desired angle, enabling fast positioning at complex angles for orthopedic applications.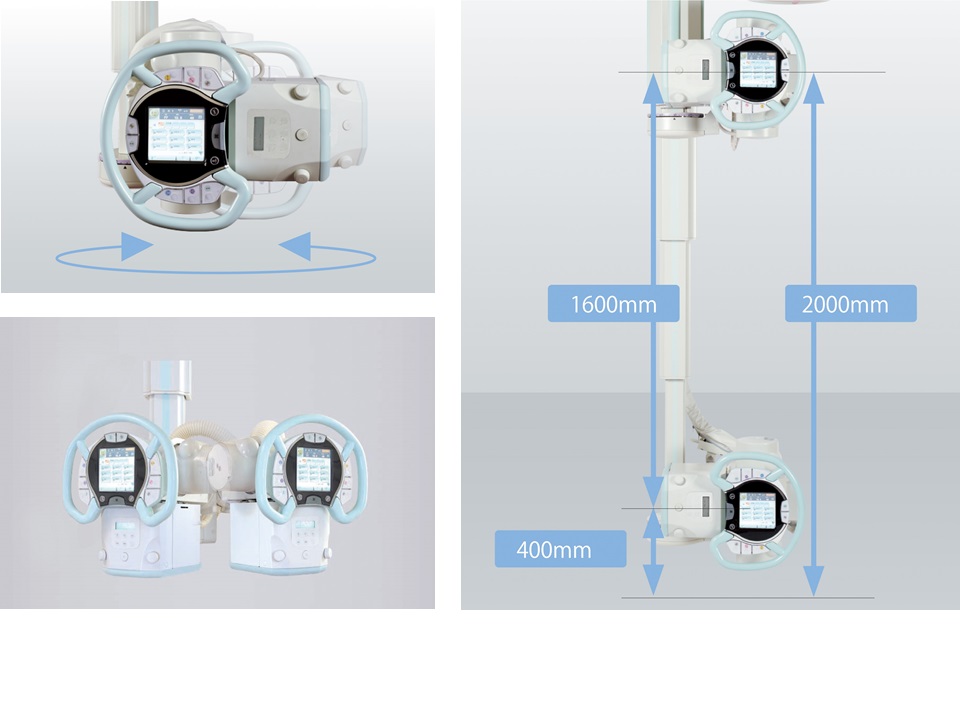 Synchronized vertical movements of X-ray tube unit and bucky table
The focal point of the X-ray tube unit moves up and down in conjunction with the vertical positioning of the X-ray bucky table and X-ray bucky stand. This allows the operator to attend to the patient in a standing position while positioning the equipment. For a table study, the X-ray tube automatically moves to a preset SID, enabling accurate and fast positioning.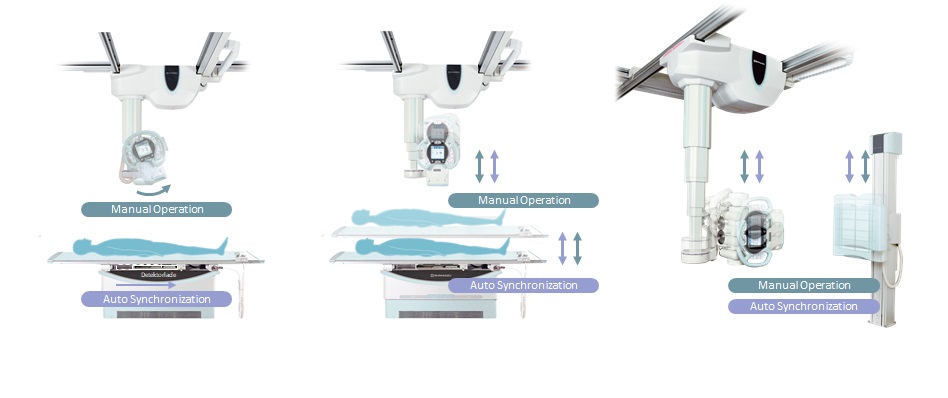 Auto Stitching - Speed Stitch function
Images are taken while swinging the X-ray tube and moving the FPD. These images are automatically stitched together to obtain wide-range images along the body axis instantly.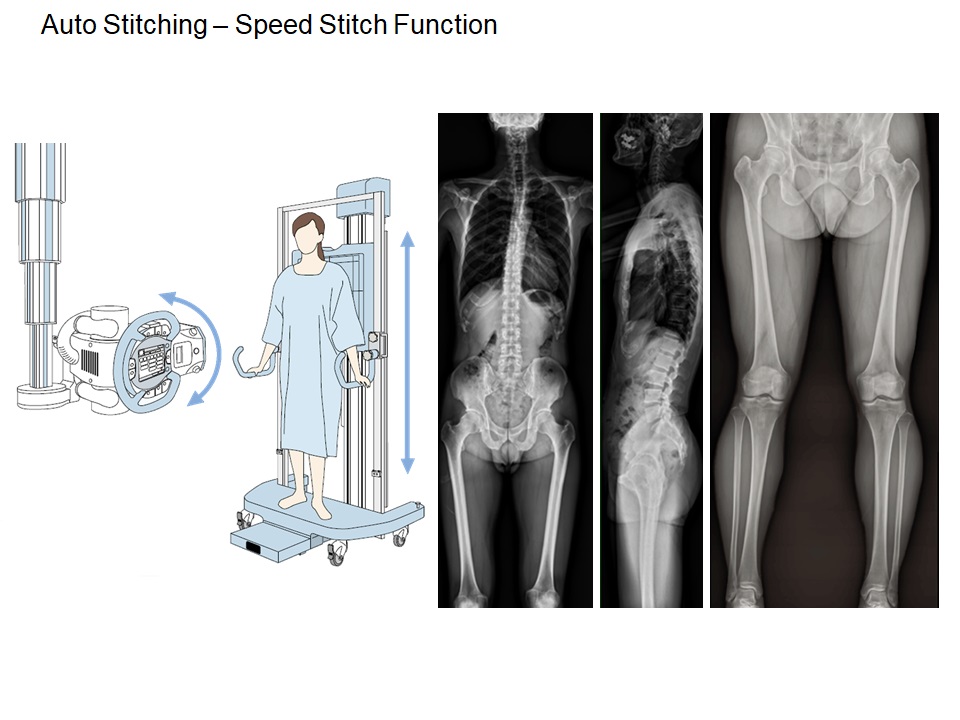 Easy-to-operate, fully featured, intelligent X-ray high voltage generator
Advanced APR allows 800 different radiography parameter configurations
Up to 800 anatomical programs can be registered on the system. Registering the conditions as programs associated with the examination area and technique allows conditions to be set up smoothly.
Each technique selection has 10 anatomical regions that can be selected, and each of them has 20 user-definable associated techniques. Furthermore, up to 7 different directions can be stored in each technique key. Each time one direction is taken, the exposure conditions can be automatically changed according to the next direction. This feature is particularly effective for inspections of areas requiring exposure from several different directions, such as for orthopedic surgery.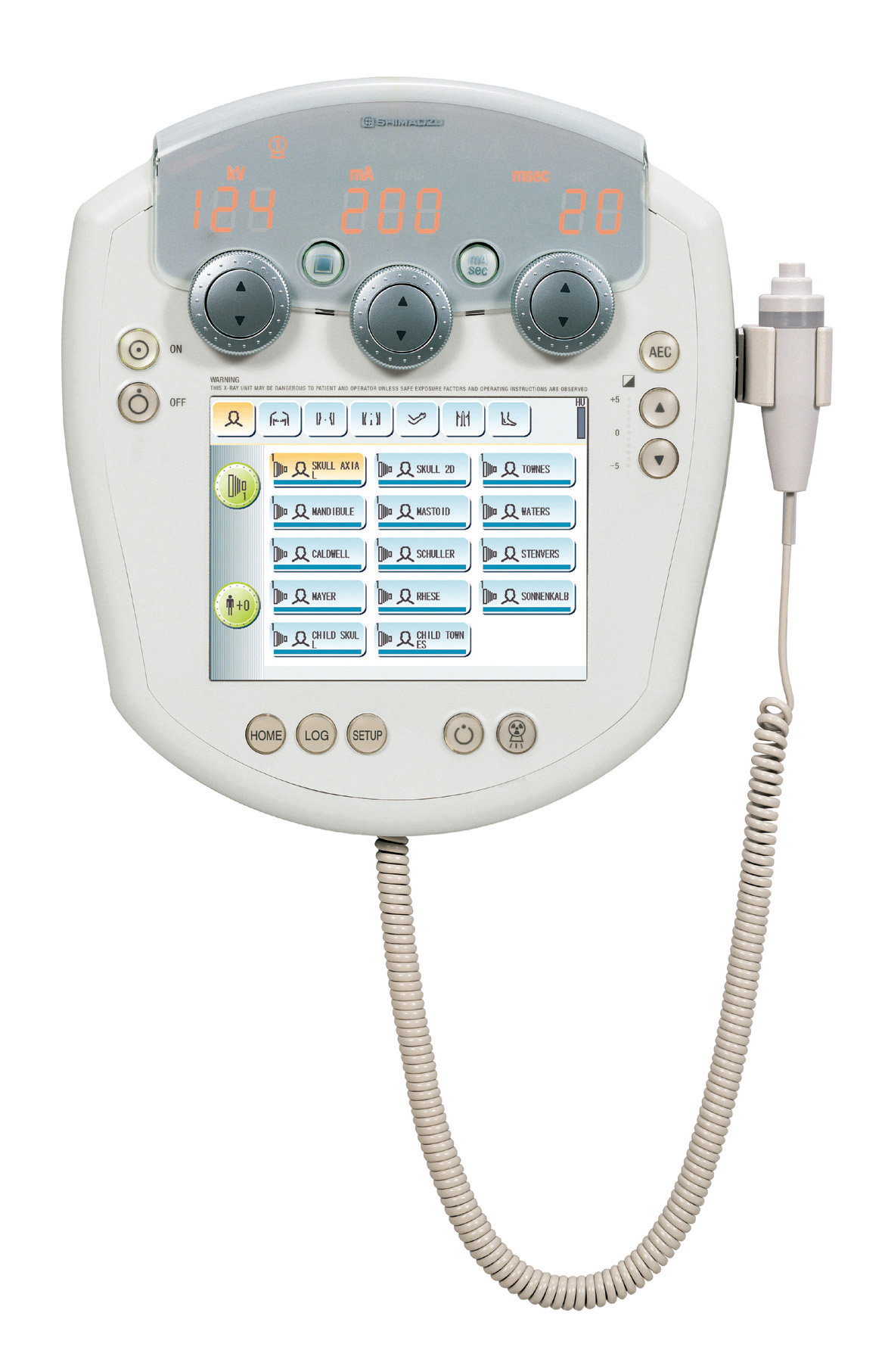 Next generation collimator reduces X-ray dose to the patients
Low dose collimator with auto-filtering feature
The new collimator can change the filter conditions automatically for the region being imaged. It provides the advantage of further dose reduction without degrading the image quality.